Member
Join Date: Aug 2009
Posts: 3
DIY: Oil Change for Sky/Soltice
---
Hey, I posted this over on the Saturn Sky forums but I think it is the same for the Solstice as well. Please let me know if the oil change procedure is different.
Thanks.
Oil Change Parts Required:
Oil Change Parts/Tools Optional:
Procedure:
Step 1:
Lay out race ramps on smooth even surface (sweep away any rocks or debris).
Drive up to the ramps, check to ensure even approach and readjust if needed.
Drive onto ramps put car in park and use the E-brake.
Insert Chock Blocks behind wheels (as shown in Figure 1).
Lay out all needed tools/parts nearby.
Figure 1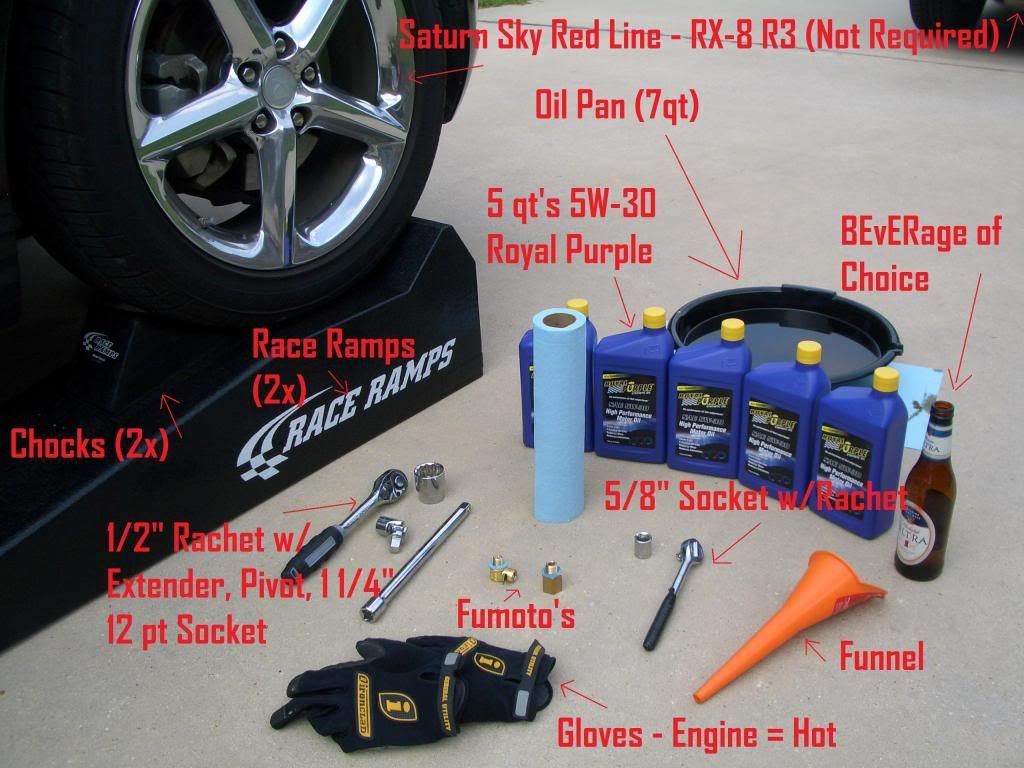 Step 2:
Pop Hood
From underneath the car locate the oil drain plug. (The plug is 5/8" Hex nut about 1 inch long). See Figure 2 for reference:
Figure 2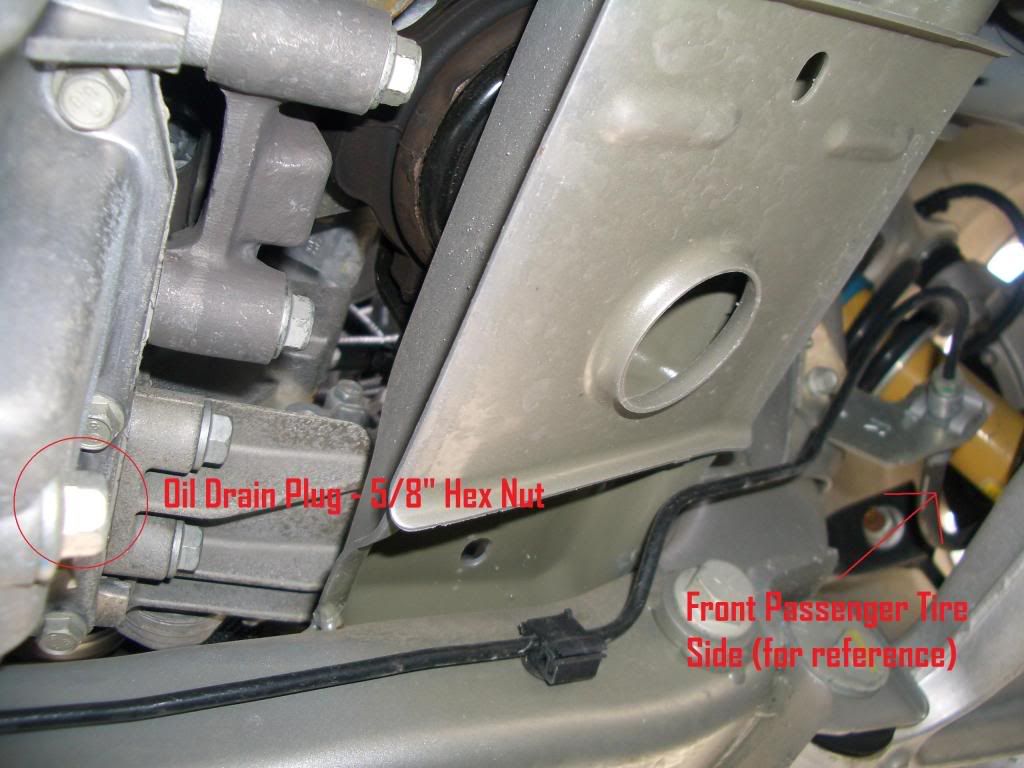 Position oil pan such that one edge is directly below plug and other edge is as close to passenger front tire as possible. The oil will shoot out this way once plug is fully removed. You want to avoid Figure 3 as it is no fun...trust me. This is why I suggest the Fumoto's. The next oil change (now that Fumoto's are installed) should not induce Figure 3.
Figure 3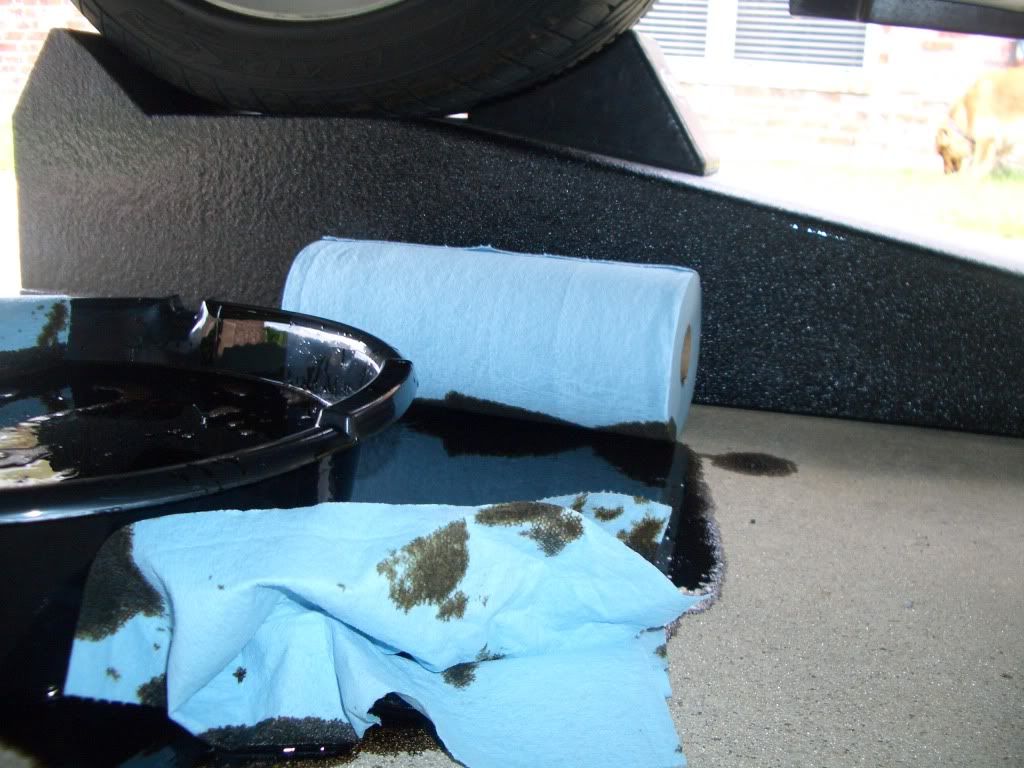 IF Figure 3 happens to you, don't get frustrated you have a Fumoto now (hopefully) for next time. Proceed to your BEvERage and take a break.
Now that your oil pan is positioned in the correct location (cross fingers) use your socket wrench with 5/8" socket to remove the hex nut.CAUTION* Oil WILL be hot. (Suggest using a glove for this part)
Proceed back to your BEvERage while the oil drains (5 minutes or so).
Step 3:
Locate the oil filter under the hood (see Figure 4).
Figure 4: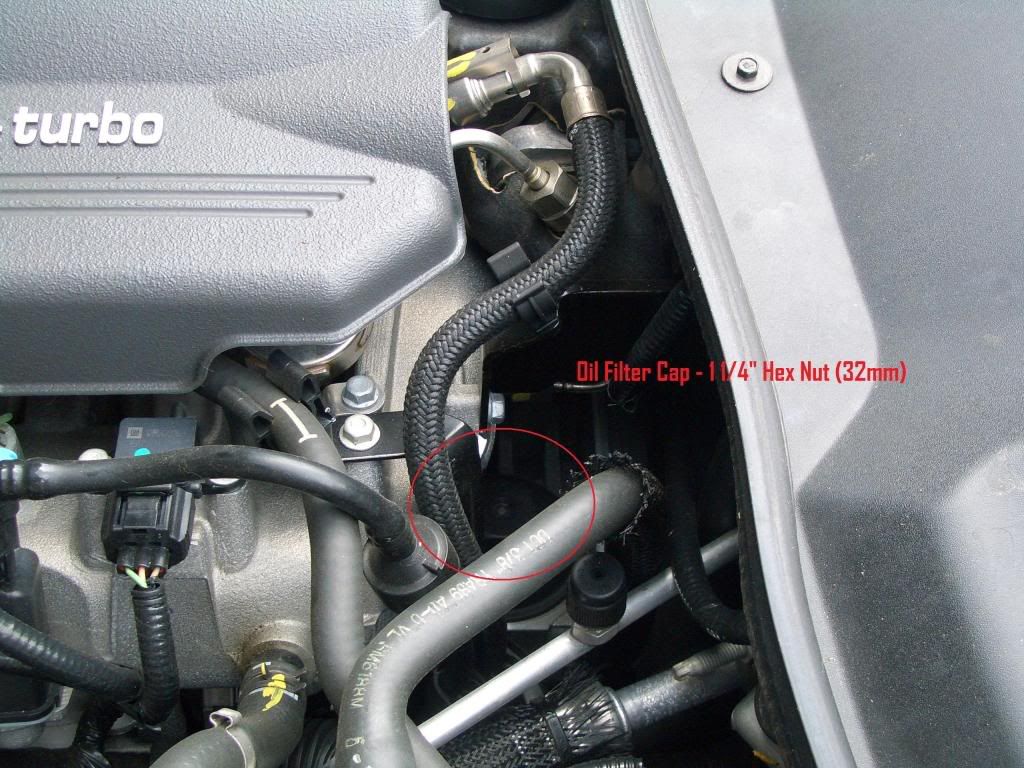 Using your larger socket wrench with pivot joint and extender place a 1 1/4" 12 pt (or hex) socket on the oil filter hex nut. Remove oil filter housing (righty tighty lefty loosie) as show in Figure 5.
Figure 5: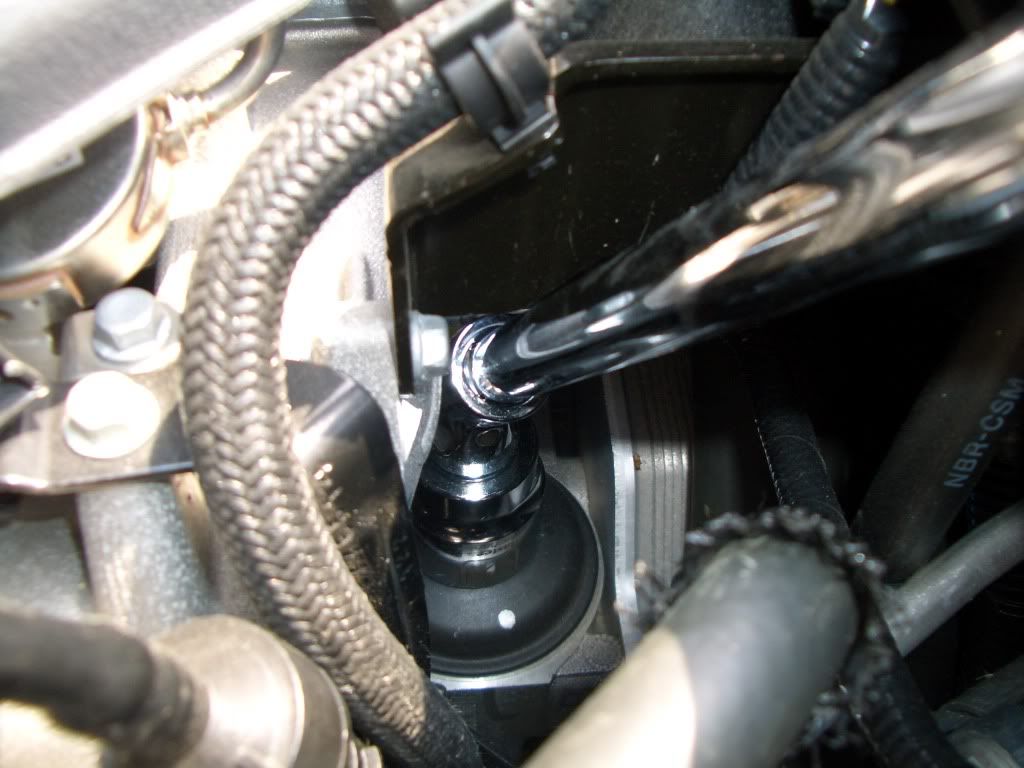 Remove oil filter cartridge once loose. (CAUTION ENGINE PARTS WILL BE HOT PLEASE USE A GLOVE)
Replace oil filter with new one as shown in Figure 6.
Figure 6: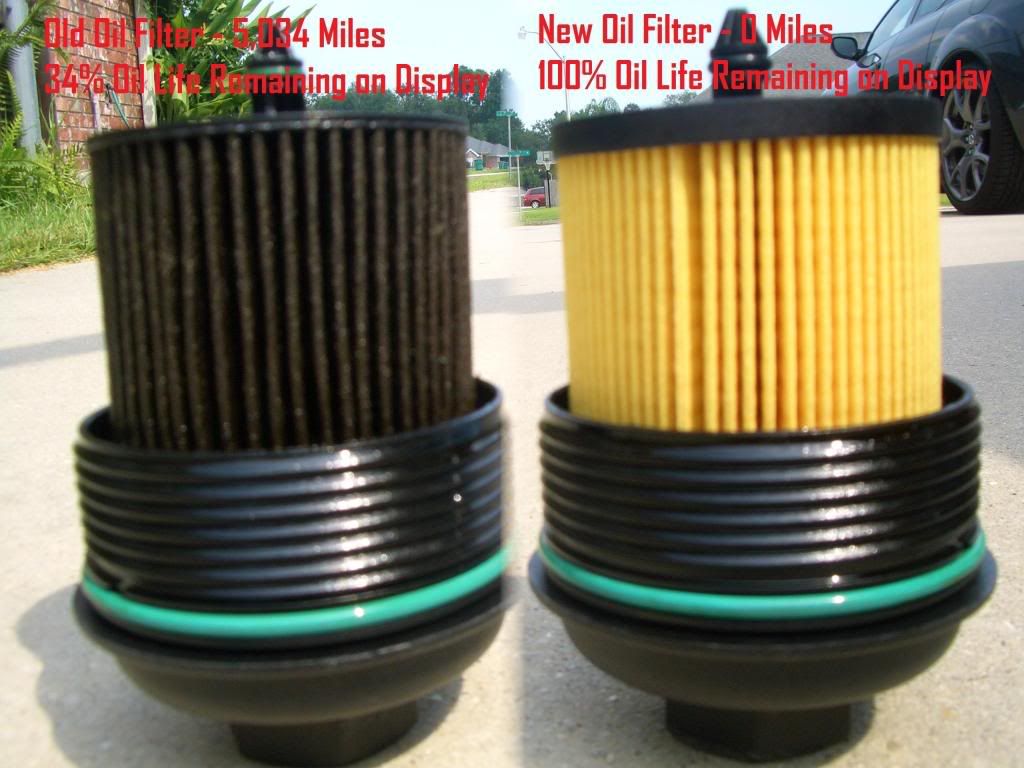 Insert cartridge back into housing, remember that glove and tighten with socket wrench.
Step 4:
Once new cartridge is installed the oil should be done draining.
Install Fumoto Oil Plug Drain Valve as shown in Figures 7 and 8. (Or oil plug if you choose not to use the Fumoto)
Figure 7: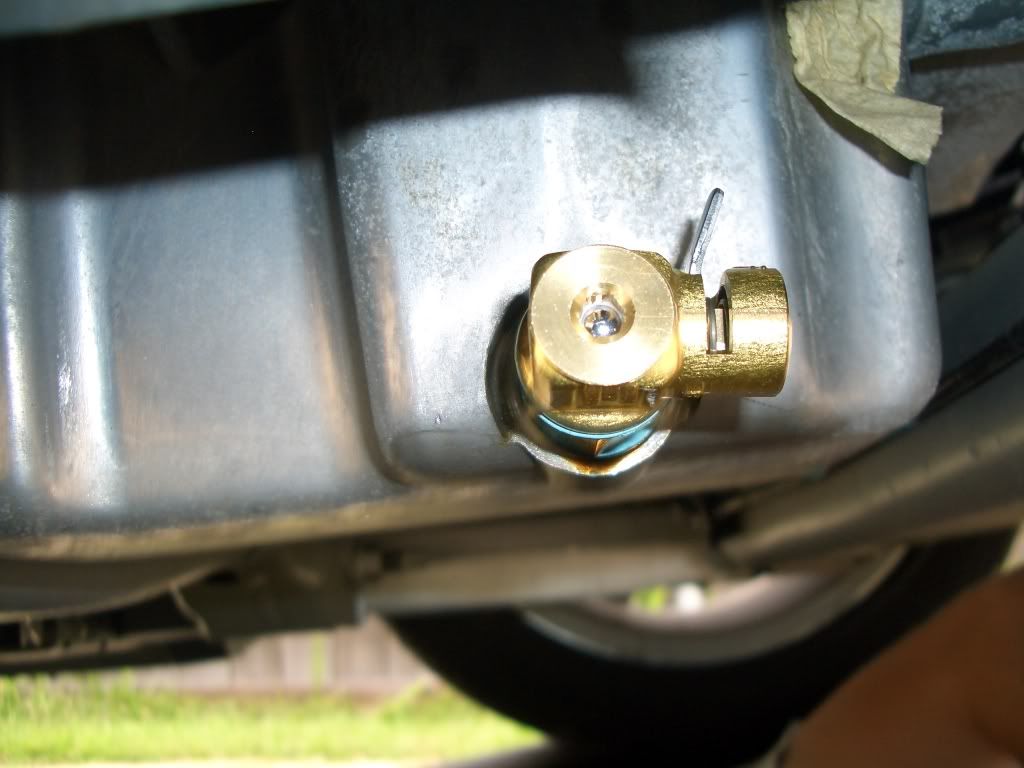 Figure 8: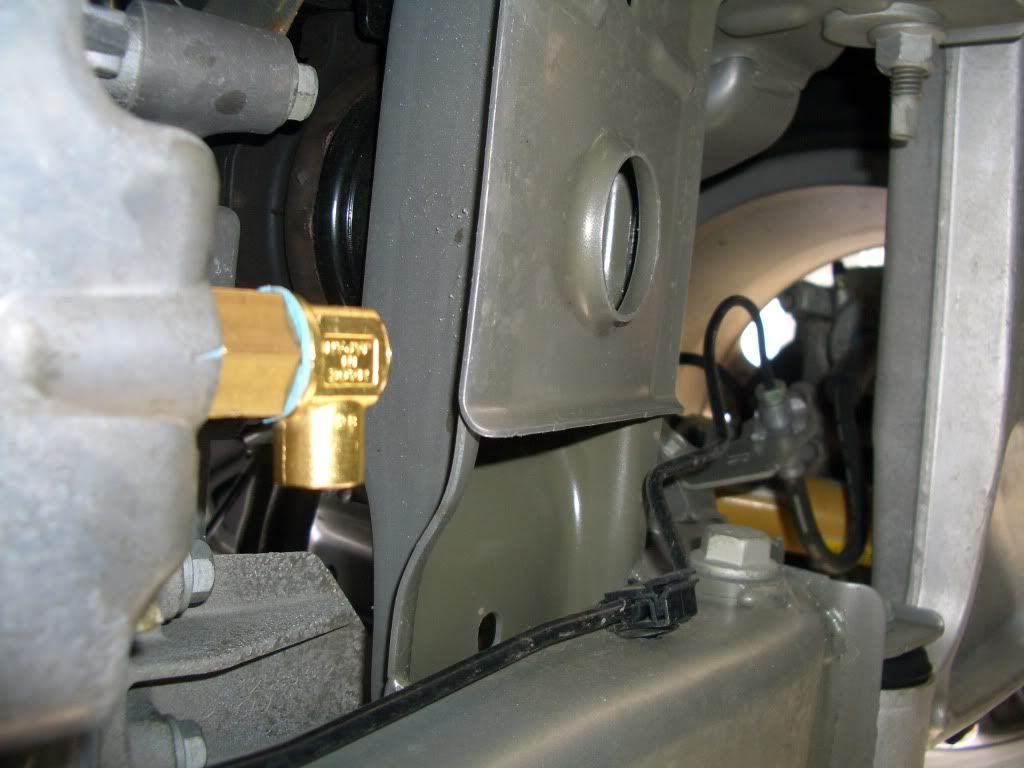 Tighten plug/drain valve with socket wrench (for oil plug) or crescent wrench (for Fumoto).
Proceed to step 5.
Step 5:
Remove oil fill cap as shown in Figure 9.
Figure 9: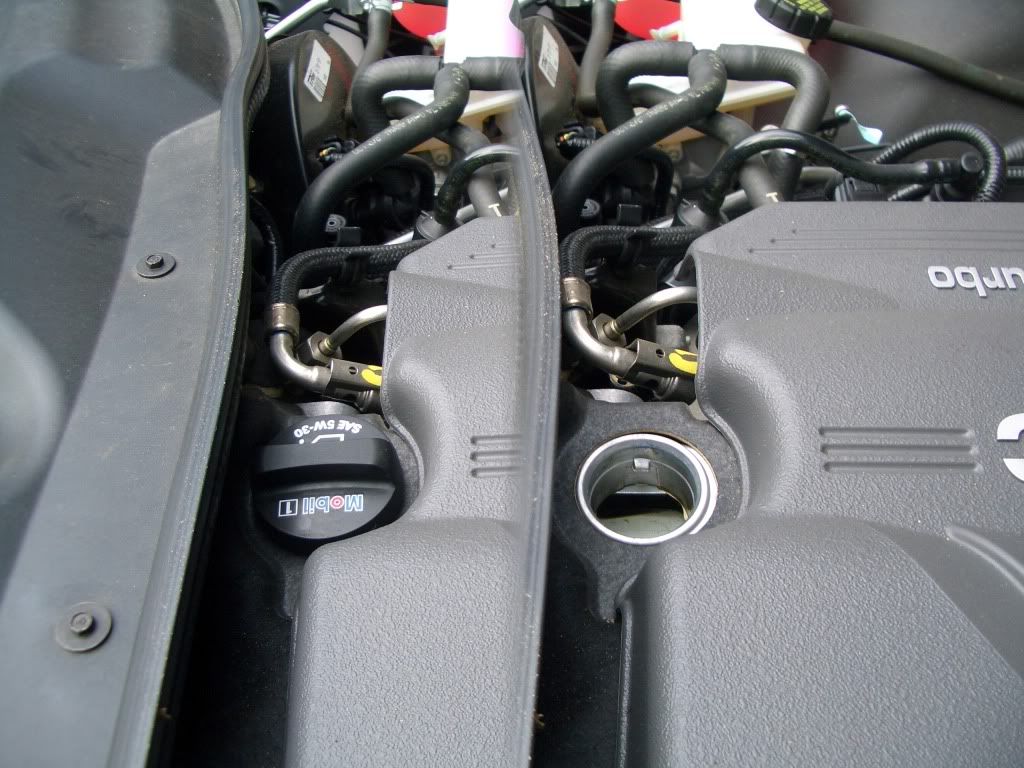 Fill with 5 qt's of quality 5W-30 oil (I recommend Royal Purple).
I find the best technique is to use a hand to hold a funnel and the other to pour since the funnel will not fit into the hole (metal deflector in the way).
Figure 10: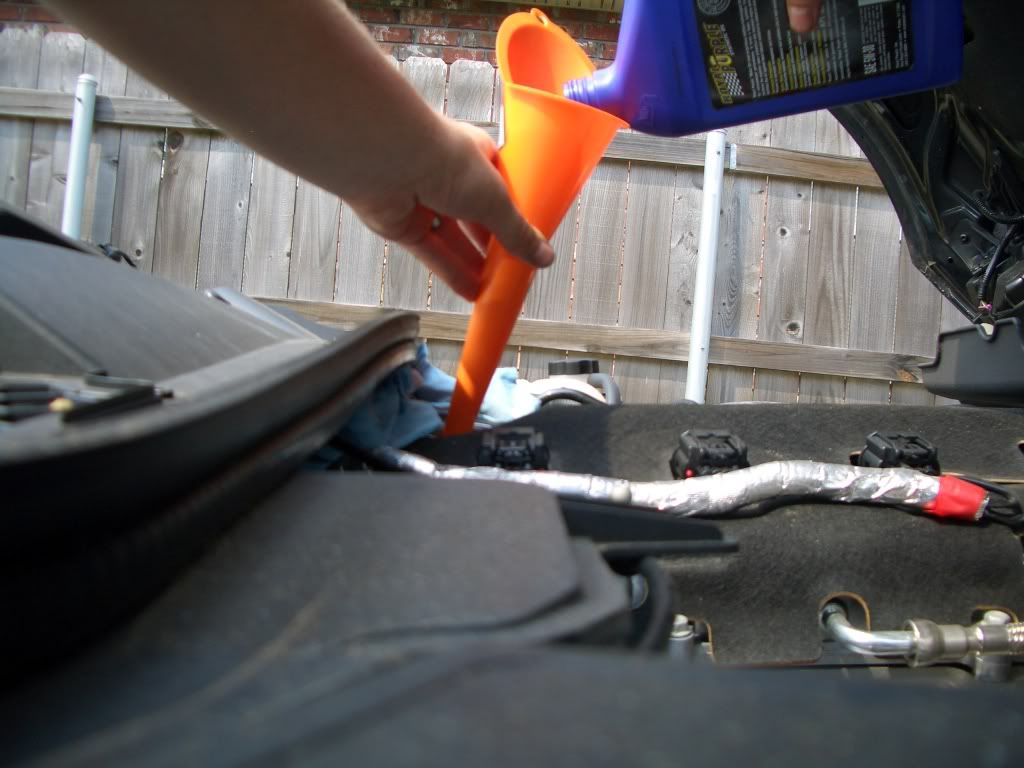 Replace cap and proceed to final step.
Step 6: Resetting the Oil Life
Turn key to ACC - engine should be off, everything else on.
Hold the INFO and RESET button until ENGINE OIL RESET appears. Hit the RESET button (may have to hold a second or two).
ACKNOWLEDGED should be displayed indicating the oil life has been reset.
Engine oil should now read 100%.
Oil Change Complete.
Thank you all for reading. Hopefully this helps out with changing your own oil.
Feel free to add advice/tips/tricks or PM me errors in this procedure.
This was my first time ever changing my own oil (in any vehicle).'
Nice right up and excellent pics.
---
2008 GXP Manual, every option and more to come....
Good write up. I did a similar write up last month
My only comment is that if you remove the oil filler cap and filter before you drain the oil, it will help the oil drain faster by allowing air to displace the oil as it is draining.
The other comment is about driving it on ramps. Putting the car at an angle will prevent some of the oil from draining. You want to make sure the car is level on the ground and all the oil is completely drained before putting the plug back on. I had to jack the car up because I'm to big to fit under the car and reach the drain plug but I did put it on level ground before reinstalling the drani plug and some more oil came out. I like that drain valve idea. I'm going to order one of those for all my cars.
Here is a link to my write up:
http://www.cherod.com/solstice/HowTos/OilChange.htm
---
07 Deep GXP -
Foot Well lights, side marker turn signal, trunk spring, Antenna Delete, Retractable License plate, Clear Turn signals, Painted Calipers+decals
My solstice Site with HowTo Articles-
http://www.cherod.com/solstice
---
Last edited by odiaz; 08-29-2009 at

08:53 AM

.
Pella 6000 was able to pull 5+ quarts out of my 2.4l with Hahn Turbo right out of the dip stick tube.