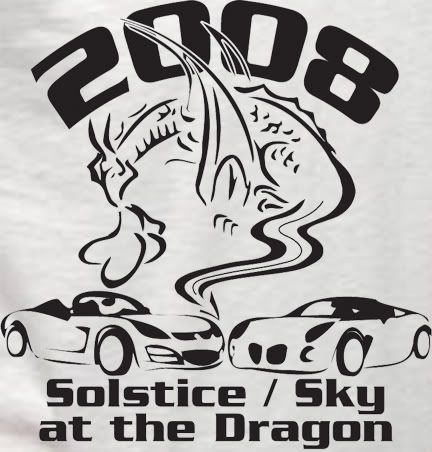 June 26-29, 2008​
Here we go, people!!!
We invite all to join us as we return to the
Tail of the Dragon
for 2008. The 2008 Solstice/Sky at the Dragon event will be held June 26-29, 2008.
We have a central website for information:
Dragon Event Website
A new registration site is now available. Please enter your info. Currently still working on the fee. Please be patient, we apologize for the delay.
We will be using
Fontana Village
again this year. For reservations and information please call:
(800) 849-2258.
At this time we have a block of 85 rooms as follows.
49 Queen Lodge rooms
$74.25
17 King Lodge rooms
$74.25
8 Lodge Fireplace rooms
$81.75
7 Poolside Cabana rooms
$134.25
4 Sweetheart rooms
$134.25
These prices are with our 25% discount.
Cabins
Magnolia
3BR/2BA
$203.15
Azalea
3BR/2BA
$203.15
Azalea
2BR/2BA
$194.65
(w/ Fireplace & Whirlpool)
Log
2BR/2BA
$186.15
Azalea
2BR/2BA
$177.65
(some Fireplace, some Whirlpool)
Hemlock
2BR/1BA
$135.15
Laurels
2BR/1BA
$101.15
Willows
1BR/1BA
$101.15
Fontana has 2 other types of cabins available but they are
Rustic
(Ceiling Fans, no TV)
Complete descriptions are avalable here:
Fontana Accomodations
There are some cottages near the resort but they are on a first come first serve basis.
All Lodge Rooms will be the 25% discount and Cabins will be 15%.
Please make sure to state that you are with the
Solstice/Sky Kappa Club
to receive the discount.
The block of rooms will be held until
May 10, 2008
After this the rooms will be released to the public and will become first come first serve.
Also, Fontana is raising their rates at the first of the year, but if you book promptly this year, these rates will be honored. So don't wait!!
Any Vendors/Sponsors interested contact me or
jrarant
.
With our potential size, we plan for the proceeds to benefit the
Susan G. Komen for the Cure
We will be charging a fee starting this year,
$70 per person
Deadline for the fee is
May 28
We cannot accept fees after that deadline!!!
Payment can be made by check or money order Make payable to me,
Lee Cole
or to
Solstice/Sky at the Dragon
Send fees to me at
Lee Cole
4064 Patton Chapel Rd.
Lincoln, AL 35096
Club Recognition
We want to recogize clubs at the event.
If at least 10 menbers of a club participate, your club and logo will be in the info booklet and website.
If a club has at least 15 members participate, your logo will also be on the T-shirt and your club can display a banner at the event!
TShirts
jrarant is currently working with TOTD.com for event merchandise: shirts, hats, decals. etc. We will relay prices and items when we firm up info.
This is our schedule at this time:
Current Itenerary
Thursday June 26th
Participants arrive
Meet and Greet 7-9pm Menu TBD
Friday June 27th
Excursions:
We plan this year to have several possible runs on Friday to various locations in the area:
Blue Ridge Parkway
- twotoys
Devil's Triangle (led by Appygirl)
Run Leaders
Appygirl - Devils Triangle
twotoys - Blue Ridge Parkway
rcogburn
We need volunteers who are familiar with the area to lead some of these runs. If you would like to head up a group, PM me or Appygirl on either forum.
6:00 p.m.
Group picture - Fontana Dam
killboy will meet us at the base of Fontana Dam for a group shot of the cars attending. Prints will be ordered from their store afterwards. Darryl Cannon asks us NOT to share digital images of the group shot.
Friday Night June 27th - Pigeon Forge
After we finish with the Group pic by killboy, whoever wants to join us, we'll head over to Pigeon Forge for some fun. Anyone familiar knows the area is loaded with restaurants, mini-golf, go-karts, etc.
Saturday, June 28th
At this time, we plan to run the SkyWay-Dragon loop again on Saturday but this time in reverse. Also with the potential size, we will be breaking up the cars into groups of 10-15 each and sorted by driving style: Hard-Charger, Medium, Laid-Back. Also with the potential size and groups we will need 2 volunteers for each group for Lead and Sweeper to look out for thier group. Also these leaders will need to find a lunch spot along the route. Anyone interested PM me or Appygirl.
*Dinner banquet*- Sat. June 28th 7-9pm
Fontana Village in the Carolina Room
Menu:
Roast Beef w/horse radish sauce and Au Jus
Cheese Ravioli
Red Skin Potato Salad
Mixed Greens Salad w/dressings
Southern Style Green Beans
Rice and Broccoli Casserole
Rolls w/butter
Sweet and Unsweet Tea/Water/Coffee
Peach Cobbler
Red Velvet Cake
Sunday June 29th
Participants depart
That's what we have so far. The phone lines are open as they say. Also be sure and register at the website. That'll help us keep track.
We look forward to having you!
Participants:
SolsticeWolf
Appygirl
KYGXP
pursuit
ChiliSky
twotoys
07SkyOwner
AwsmSky
bryan1969
CajunSky
cck51
Cheers
Barry
DarkWing
ducksol
Farscape1
GaryH
GA-SOLMAN
jrsno1fan
ladyt28
lnwlf
lostcause
Mrtoycrazy
mvsoske
NCBlue
PAO & UNEED2
pursuit
RedlineGoodtimes
ricthar
Sabot53
ShowMeSky
SKYMRK
sol07pony96
SouthernSkys
SteveMR2 & MandiLu
Superchief
NCRedline
WedPro
WintR
Yamatd3
yellowfever
JRinKY
JPM
B.A.M.F.
mbsaturn
2unique4most
07clone
GXPinFL