Discussion Starter
•
#1
•
I loved the Solstice when it first came out, and almost bought a convertible, but there was no place for the dog so I got a little Mercedes coupe instead. When the Solstice coupe came out, I was going to wait a year or two and get one. Then GM went bankrupt. The only one I could find locally was a black GXP Manual. So I bought it. My girlfriend thought it was the stupidest thing I ever did.
The first thing I did was get a 3-inch exhaust GMPP CAI, GMPP tune. I read every thread on big turbo builds. Jeb's was the one that inspired me the most. He went step-by-step on how to get 415 WHP. I tried to get a Super G20 kit, but had no luck. I bought a BNR 2871 then Antonio posted a dyno for it that I did not like, so I sold it. Antonio finally talked me into going with the EFR. He also helped me find a Garrett manifold which I had shipped to Werks. They welded on the spacer and made me a custom down-pipe. The first piece I installed was the Dejon inner cooler and piping. The reason I went with theirs was because they had the most OEM looking piping. I live in California, the land of the Smog Nazis. At the same time I installed AEM water meth injection.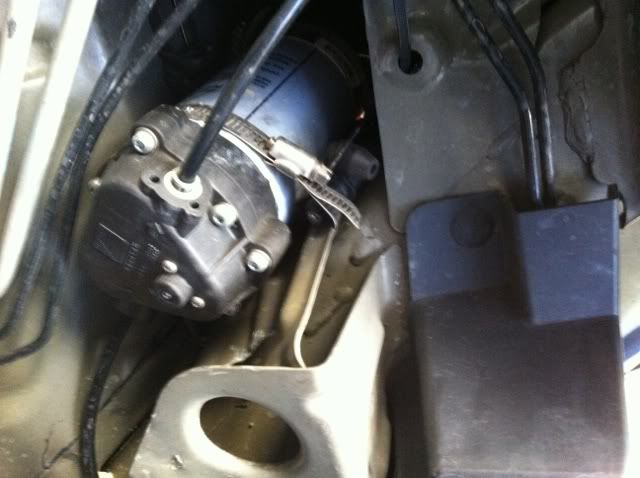 I've seen threads on where to install a water meth pump. This area is right under the windshield washer tank. It's also tucked away in a very hard to see spot. This is probably when I decided to make everything as stealthy as I could.
Spacer to get compressor housing to clear exhaust manifold, by Werks.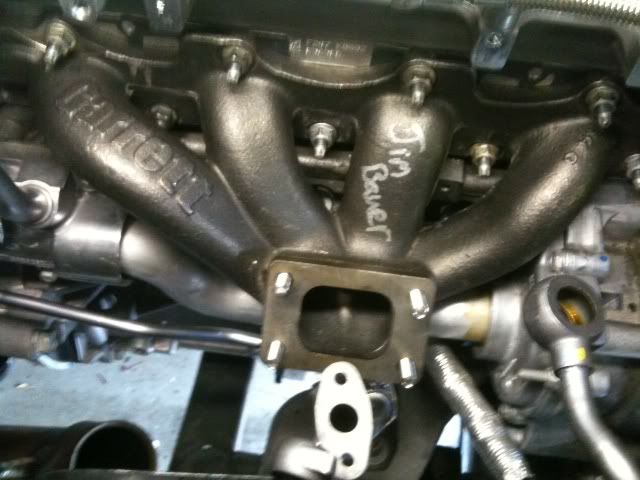 Manifold installed.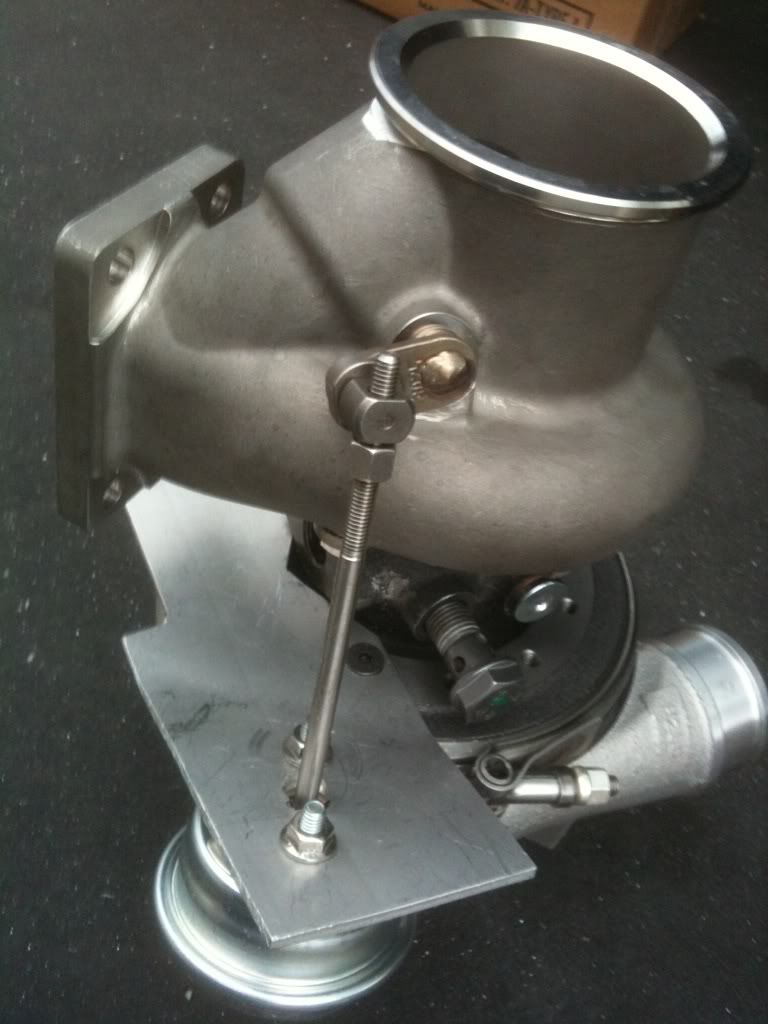 Modified waste gate actuator bracket.
Slight notching of frame to make waste gate actuator fit.
Overall it fit pretty well. The original waste gate actuator bracket stuck out way too far. So I had to make my own. Even having it as close to the compressor housing as possible, I still had to slightly notch the frame. I was able to bend the stock waterlines and reuse them. I was hoping to be able to use the stock oil return line but I couldn't. I wound up towing the car over to a welding shop and they welding me up a custom one, and they also did the welding on the hot side inner cooler piping.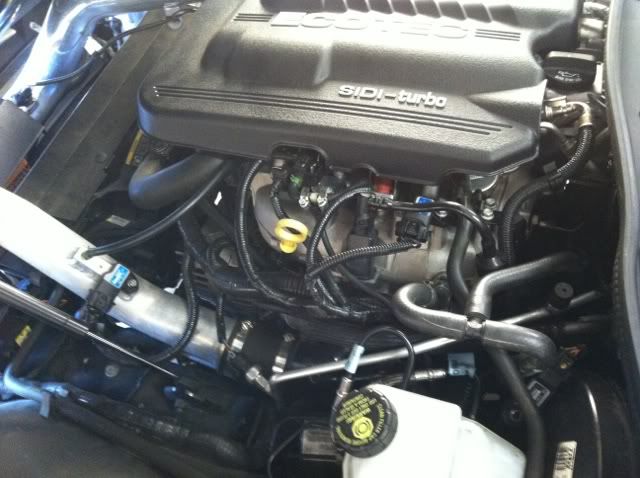 As you can see in the photos, I was able to keep the engine compartment looking pretty close to stock.
I did a lot of dynos in the process, and I have a before dyno.
This dyno shows my stock engine with just a GMPP tune and 3 inch exhaust. 248 WHP. The middle line shows my WHP with the EFR turbo and a large meth nozzle at 333 WHP from the other guy that does not use HP tuners. I was disappointed with this outcome so I decided to find a different tuner. Finally, with a good HP tuner, I am now up to 407 WHP. Now to be fair, that was the final tune running E47, a fifth injector, and water meth. My advice to people with big turbos is to avoid the guy that does not use HP tuners. His tunes are way too rich. Initially, it took me 14 months to find somebody to tune my car. I paid him a thousand dollars for my tune, and I think he did a great job. Of all the money I've spent on my car, the thousand dollars I spent on that tune was the most worthwhile. If you are interested in having him tune your car, please respond to this thread and he may reply to you.
These dynos were without the fifth injector and with no water meth. I added the fifth injector because I didn't like the injection window misfires. The water meth was reconnected after all the tuning was done for a little extra piston protection.
This is what happens if you miss a gear with the stock valve springs. I've upgraded mine to Werks valve springs.
Internally the engine is completely stock except for valve springs. Anymore horsepower than this would damage pistons, in my opinion. We also have the boost turned down at lower RPM's to keep the torque down. 380 lbs of torque is plenty. I've also gone and limited the torque in first and second gear to keep my 295-30-19's from spinning like crazy. I also love my Werks rims.
end part 1