Kevin,
What do you think of this clamp? It's not a T-bolt but does not seem to take up the room either. Might it work in this position?
410 SS Screw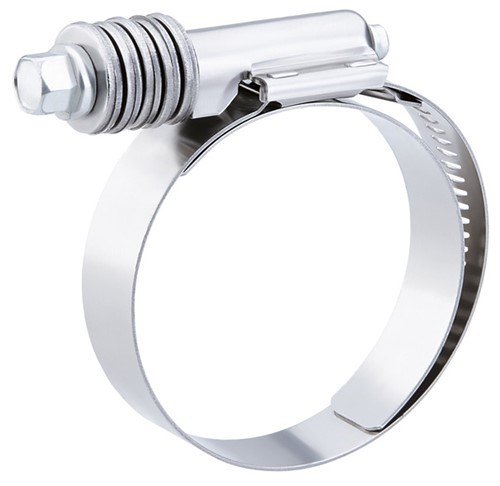 Breeze Constant Torque 9/16" Band
The Bellville spring mechanism automatically increases and decreases the clamp diameter due to operational and environmental temperature changes to maintain consistent sealing pressure
Extended inner liner protects all types of hoses from damage
SAE standard J1508 Type SLF and SLHD
High strength 4-piece Quadra-lock construction
9/16" band width
5/16" hex-head cap screw
301 Stainless Steel Belleville springs
304 Stainless Steel band and housing
410 Stainless Steel screw
Part #
CT 9480
Band Material 304 SS
Screw Material 410 SS
SAE 80
Band Width 9/16"
Min. Inches 4.0
Max. Inches 5.5
Min. mm 102
Max. mm 140
Torque Range 70 in/lbs
Hex Screw 5/16" Hex Cap
Pricing 1-99
$17.02 each
Website:
Industrial Hose Fitting | Large Hose Clamp | Pipe Fittings | Breeze Clamps | Hos
Richard