This works on all KAPPAs.
This mod now has two methods.
NEW easier way to do this mod, no cost.
Relay method for LEDs
Add an automotive relay on each side marker to convert them into turn signals and still retain the marker for the parking lights.
The relay is installed with the side marker +12V brown wire cut in half and connected to the relay in the normally closed position, position 87a to 30. The blinker +12V Light Blue wire is tapped and the black wire, hook them to position 85, 86.
The following picture is what you need to do this mod.
2 Auto Relays
Automotive Electrical, Horn Relays | TESSCO 800 472 7373
4 Wire Taps (Wal-Mart) or Advance Auto parts
Crimp connections
Four 6" pieces of 18 AWG wire (2 pieces each color)
I did a diagram on the box to show how it works.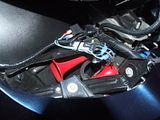 See the difference