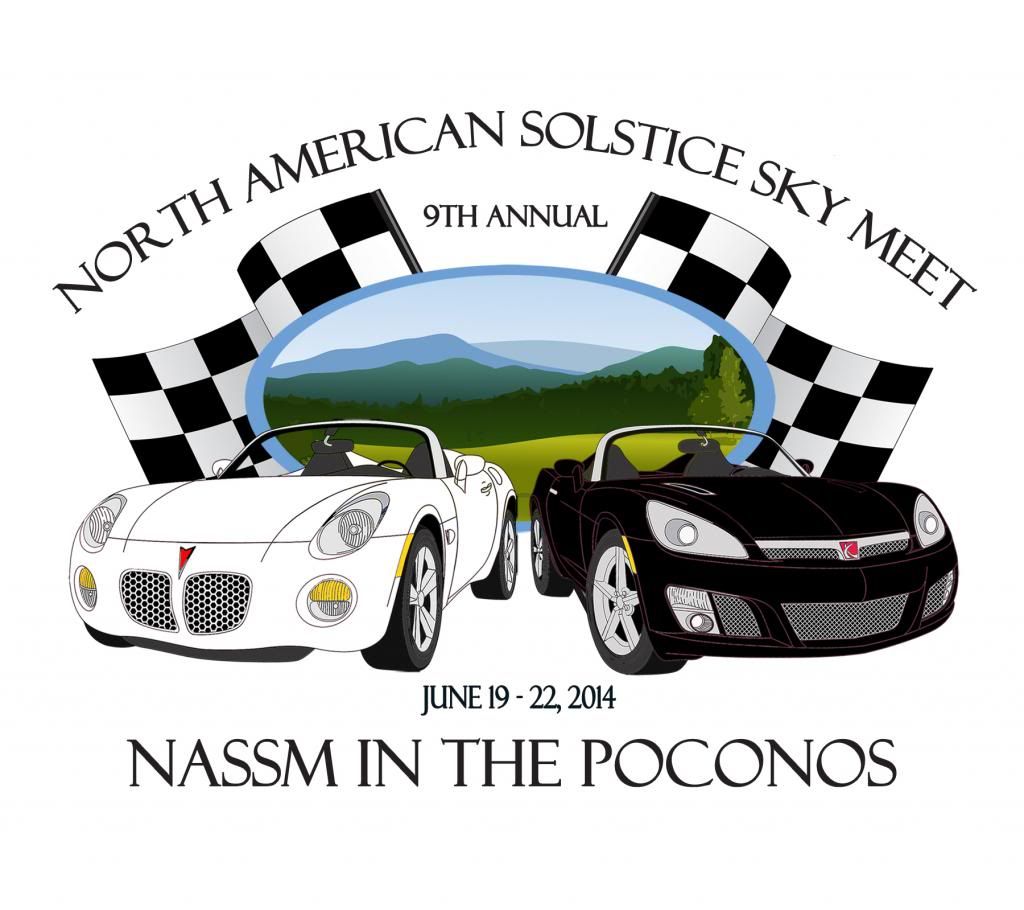 Get ready for some
PURE ROADSTER
Kappa fantastic fun because you are enthusiastically invited to
STAY And PLAY
in the lovely, lush, green and forested Pennsylvania Poconos Mountains!
Who:
All Solstice, Sky and Opel lovers
What:
The 9th Annual 2014 North American Solstice Sky Meet
When:
June 19 - 22, 2014
Where:
The Bushkill Inn and Convention Center, Bushkill, PA
Why:
Do we really need to ask this?
THE SPECIFICS:
The Bushkill Inn
Rooms & Suites
room rate is $120.00 per night with a 9% PA sales tax. The Resort Fee has been waived and the rate includes a continental breakfast. There is an excellent restaurant and a lounge within the hotel for your lunch or dining pleasure, and we will also be providing a pre-paid buffet in the main dining room while we are there. (More on the eats to follow.)
When you register for your room, please let staff know that you are with NASSM 2014 or the North American Solstice Sky Meet. In the event you need to cancel, they won't charge a fee as long as you cancel 72 hours (3 days) before the date of your arrival. All the rooms are run of house which means that a king suite is the same rate as a standard room. If you are bringing family or plan to split cost with friends, book a Premier Jacuzzi cabin or a Jr. Queen suite since they have the pull out sofa. If you are flying solo, please consider one of the 68 standard rooms. All rooms, cabins and cottages are newly renovated and beautifully decorated. When you receive your confirmation letter you will see a Resort Fee statement under "Additional Policies." DO NOT BE CONCERNED. There's a notation in the system that PER CONTRACT our group will not be charged, and you can believe I will be checking up on it come next June.
The cutoff date for registration is 30 days before the event (May 19th) so any rooms not booked by that time will be returned to general inventory. We don't want that. We want every room booked so WE can own the hotel for the duration. We don't want to share our space with non-Kappa strangers because quite frankly, non-Kappa strangers aren't going to understand the PHENOMENON of us!
We know that some of you are planning a bucket list vacation and may be arriving early. Our group rate is good from Monday, June 16 through Wednesday, June 25th so if you plan to stay and play a little bit longer, the same rate stays too.
The hotel has plenty of parking with an additional 125 space lot by the lake. Our participating vendors will be set up at this location, and we will be staging our runs from this lower parking lot.
We are working on the website and hope to have it up sometime in October as we will need to keep track of our registered attendees and your corresponding info. We are still determining the event registration fee but it will be on par with the last few NASSMs. In the meantime, if you can remember, please add your name to the NASSM 2014 Hotel Registration thread after you call the hotel to book your reservation. Phone: (800) 200-2978
OUR KAPPA FANTASTIC ITINERARY:
Our event registration will take place in the lobby area on the 2nd floor. There are lots of comfy seats in which to park, so when you arrive you can set yourself down, have a beverage, unwind and chat for a spell!
We will be running routes Thursday, Friday, Saturday and possibly Sunday since we have some FABULOUS routes mapped out. We call them
The SolPalooza Skywinder, The Towpath Twister and the River Road Rally
, just to name three. More info on routes to follow.
Thursday, June 19 - 6pm: Meet & Greet Reception w/cash bar. Little finger foods will be passed around, so save your appetite.
Friday, June 20 - 6am: Poconos Raceway 8pm: Night Lights Car Show
Saturday, June 21st - 4pm: Car show 7pm: Banquet and Awards Presentation
Sunday, June 22: 7am: Group photo
There is lots of fun to be had in the Poconos: we're planning a trip to Jim Thorpe, a tour of the Gray Towers in Milford, and some time on the track at the Poconos Raceway. More info to follow!
Karen's fundraising proceeds will be going to help those with Amyotrophic Lateral Sclerosis or ALS. For more information on ALS please visit this website.
About ALS -What is ALS - The ALS Association Greater Philadelphia Chapter
Thank you!
The 2014 NASSM Team
Michele - solli4me - Chair, Logo design, Route Mapper, Web Content, Nitpicking Negotiator
Diane - dengel - Logician, Applied Engineering and Route Mapper
Steven - ripple - Pocono Raceway Coordinator, Logician and Accountant
Joe - DeepBlueGXP - Vendor/Sponsor Coordinator
Rusty - Rusty - Pocono Raceway Coordinator
Fred - TheFred - Activity Coordinator
Karen - SHiNY - ALS Fundraising Coordinator
Kim - kygxp - Kappa Event Consultant
Mark - Dashark - Web Master
Rooms SOLD OUT
Ok, all you cool kids, don't rush to book just yet!
I'm waiting for a contract that will provide us with a neighborhood of studio and one bedroom Villas just 3.7 miles away from the Bushkill Inn for the same approximate rate.
When I sign the dotted line, I'll post the specifics.
NO WORRIES
. It's a crap shoot if you book anywhere else - either there's nothing open for those dates, the rooms are terrible or the rates are very high.
HANG ON! We're still ten months out.