Discussion Starter
•
#1
•
After finding about 1/4 teaspoon of oil in the intake pipe just in front of the turbo charger when I installed a CAI, I have decided to add OCC's to both the intake and turbo crank case vapour breather lines. I have read an endless amount of posts, utube, internet etc and decided on 2 small cans with brass micro filters and baffles. These were identical to the Mishimoto but 1/4 the price.
After you remove the intake line out of the way (#1), use two wedges, I used flat head screwdrivers, and evenly force them down to pry off the turbo line (#2), Doing it this way you don't have to remove the end connected on the turbo.
After the fitting is removed, cut the end off leaving the 90 degree bend to connect the 3/8 line too. I used a hand cutter for 1/2 inch copper line but if you place something in the line that can hold back filings you could cut it many ways.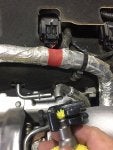 attach the 3/8 line to both fittings and route them to your OCC. I chose to mount the turbo line OCC above the battery and attached to the fuse box. With my OCC I was able to dremmel a small slot and hang the can. I used 3/4 inch heat guard near the turbo.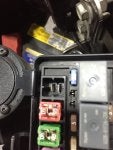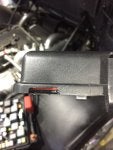 finished install pictures in next post