Discussion Starter
·
#1
·
These new photoshop renderings of using the Solstice archtecture for a C1 rebody have started to appear on a couple of car blog websites.
abimelecdesign (Instagram)
This idea has been on my head for some time and I was finally able to put it together, a C1 Corvette-bodied Pontiac Solstice.
The Corvette C1 is a pretty car with not-so-great underpinnings, so the styling has been subject of a few retro body kits for modern cars, more specifically for the Corvette C5. I've always thought the proportions of the modern 'Vettes just didn't work with the styling of the old ones, but there's another GM Sports car that I believe fits the bill perfect: The Pontiac Solstice!
Turns out the wheelbase is really similar, and the body of the Corvette just kinda falls into place over it. The dash-to-axle ratio is shorter in the 'Vette bodied Solstice, and the rear overhang is slightly shorter as well, but the whole car keeps the main proportions of the original intact. Also, with Solstice GXP underpinnings, you get a 260hp turbo 4 cyl with a manual transmission; definitely more spice than the old Blue Flame straight six in the old one. Would you do that with a Solstice? And yeah, LS swap is also a possibility too I guess 🤣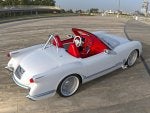 .