I just got back from my local tire fixer who would not touch my 2009 GPX Solstice rear leaking tire. I took it to the dealer a few months back and they tore up the wheel well when fixing a front tire. I need help. I want a user friendly way to jack up my car and the more I read the worse it gets. Do I need to buy inserts for those holes front and back and if so where do I get them? Apparently they are not the same for for front and back, or are they? What jack will be best..yes, money is an issue as I am retired so am looking for a safe inexpensive(LOL) way to jack up my car so I can take tire for flat repair.
Quick answer those are the same slotted holes but you are not actually supposed to use the front ones (though it's helpful sometimes).
So I will describe here if you still want to do that:
Joker what I did was buy used hockey pucks and a machine threaded eyelet at Home Depot with enough thread to get through the puck with a fender washer and nut. Then I drilled the puck in the center and assembled the eyelet through the puck. Additionally I cut about a third off the puck. That cut when lifting should be oriented to the outside and not touch the fender. Here is a link to another picture and post for a guy that modified BMW jack pads to give you an idea of what to cut on the hockey pucks.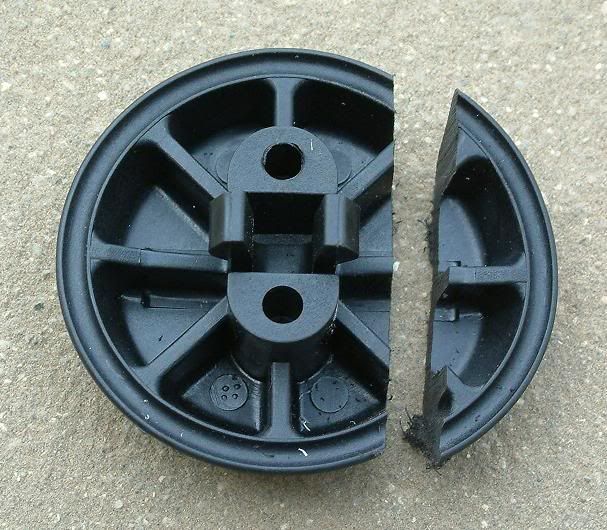 Now just slip the eyelet into the groove on the frame. Turn it 1/2 turn or so as it hangs for you orientated as I described, and raise the car with a jack under the puck.
The jack I have was purchased in Walmart and it is a Black Jack LOW PROFILE jack.
But if you are trying to get the front wheel off technically according to the GM diagram you are supposed to use the front frame "pads" a bit further in and further forward (not the outside ones you mention). They are pictured here somewhere in a previous thread. They have two larger holes in them and are way wider than the outside frame. Of you jack in that GM approved spot I'd use a small thin piece of wood because the large holes seem to be right about where most round home floor jack pad surfaces hit and it's been known to deform that chassis metal. The wood just evens it out a bit.
BTW if you do use the front slot near the fender edge using the pucks etc., it will lift up the whole side of the car. Handy for a two wheel pull off like painting calipers etc..
The pucks were a few bucks at a used sporting goods store (I have 4 and bring them and the printed instructions with pictures on how to lift the car to every service appointment) and the eyelets about the same for a couple if I recall. The Jack was about $50 at Wally World. Hope this helps.
(Just checked Wallmart and they have a Torin Lo Pro jack for $58.00)
Solo Dio
08 Solstice GXP Brazen / Inferno Orange