I plan to upgrade this to serve as instructions for anyone interested in installing the Pioneer D3 into the Solstice. I just ordered the parts and will install as they arrive (some are on back order) Here is a overview of what I plan to do for the audio system. Pics on the right are guides for how I want it to look when finally installed. Crutchfield had a great deal going on now, free backup camera and 15% off if you buy 3 pioneer items. 15% off Code 3A185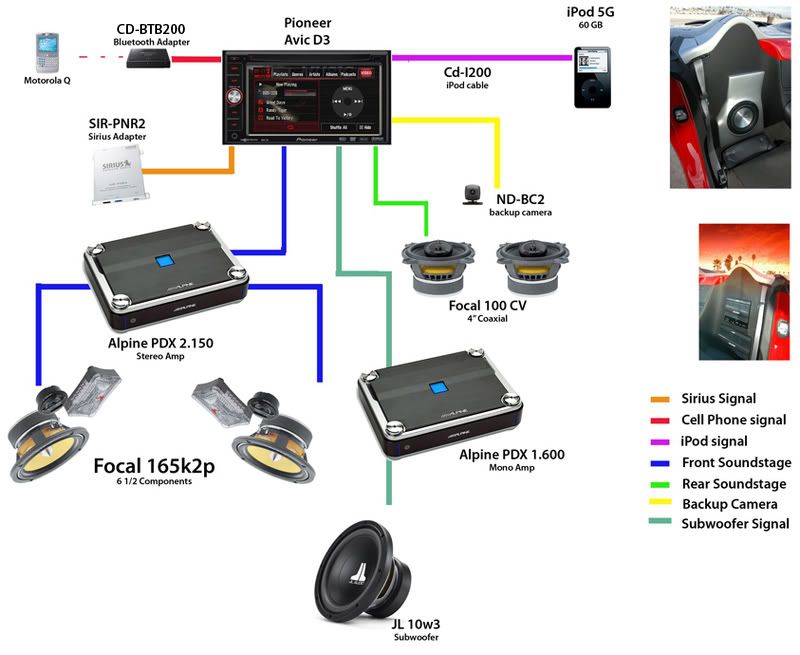 Thanks to NBCKIPP, cartmann22, Justice and all the others on here for suggestions and ideas for what works and more importantly what doesn't.
I purchased my 2007 GXP with the base stereo and NO onstar since I planned to upgrade from the beginning. So these parts will work in that application. The only difference I am aware of is using the GMOS-Lan-04 harness if you want to keep the Monsoon amp and onstar. edit (also has input for VSS wire directly on the unit)
Parts List:
Pioneer - AVIC D3 (Head unit)
Metra - Turbo Wires 71-2104 (wiring Harness) <-- Not needed if using GMOS-lan-03 (04) adapter
PAC SWI-PS (Steering Wheel control)
Pioneer - CD-I200 (High Speed iPod Cable)
Pioneer - SIR-PNR2 (Sirius Satellite Radio adapter)
Metra - 95-3302 (Double din dash install kit)
Metra - 40-cr10 (Antenna adapter)
Pioneer - CD-BTB200 (Bluetooth adapter)
METRA - GMOS-LAN-03 (Onstar / chime harness) For NON monsoon system
Pioneer - ND-BC2 (Rear view camera)
NAPA - AR201 (12v 30 amp SPDT (Single pole double throw) relay (Needed with GMOS-Lan-03 for blinker "click")
Later Upgrades as paychecks allow
Focal - Polyglass K2 V2 (Front 6 1/2" Components)
Focal - 100 CV1 - (Rear 4" component speakers)
Alpine - PDX 2.150 or 4.150 (Stereo or 4 channel amp for the front and rear speakers)
Alpine - PDX 1.600 (Subwoofer amp)
JL Audio - 10w3 in a custom fiberglass enclosure (Perhaps the pioneer thin sub instead)
I also plan to flush mount the concealed display in the dash where the passenger airbag light is now.
. . . Stay tuned for the install and pics